Are you looking for a beast that can squeeze every single drop of juice out of all kinds of products such as fruits and vegetables as well as leafy greens and wheatgrass to make a great summer treat?
Well, this is where the high-end, powerful, and versatile J8006HDS cold-press masticating juicer comes into play. The juicer is actually a veteran in the cold press juicing world, which is fun for the entire family, too.
After going through a whole lot of research work, I've come up with the best omega juicer review for you.
Those of you wanting the great value for money under 300 bucks, and a long-standing juice maker with a solid performance are definitely gonna love this juicer.
The power and elegance of this majestic masticator can't be imagined until you see it in action. And, it's already created lots of hype among health-conscious juice lovers because of its stylish look. That's awesome!
Sit back tight and read through the write-up over a cup of coffee. Because I'm going to let you know all the ins and outs of the Omega J8006 HDS Nutrition Center Juicer so you can make a final decision whether or not you should make it a new member of your family as a juice maker.
Without further ado, let's dive a bit deeper into it!
Quick Digest:
Pros:
Retains all the essential nutrients and enzymes.
Comes with industry-leading 15 years of warranty on parts and performance.
Heavy-duty construction with an 8x stronger auger.
High juice yield because of the dual-stage mastication process.
Quiet operation.
Easy to Clean (dishwasher safe).
Produces less froth and pulp.
Easy to put together.
100% BPA-free.
Black Ultem auger prevents staining.
Can also be used as a coffee grinder, baby food maker, and many more.
The juice will last for around 72 hours in a tightly sealed container.
Product Details And Usage:
Specifications:
Type: Masticating Juicer (Horizontal).
Application: Home and Personal Use.
Color: Silver.
Material: Stainless Steel.
Brand: Omega.
Item Weight: 13 Pounds.
Item Dimensions LxWxH: 14.5 x 6.5 x 15.5 inches.
Wattage: 200 Watts.
Speed: 80 RPM.
Chute Size: 1.5 inches wide, round.
Notable Product Features:
The 200-watt motor rotates auger at a slow speed at 80 RPM, reducing heat build-up and preventing oxidation.
An automatic pulp-ejection function allows you to juice continuously.
Four stabilizing feet prevent the machine from slipping off.
5-settings for higher juice extraction.
6 nozzles to make a wide variety of foods.
Omega J8006HDS Slow Speed Masticating Juicer Build Quality And Design:
The Omega J8006 masticating juicer is sturdy and comes with a chrome finish that can easily fit any countertop. But, you need plenty of horizontal space to set it up nicely.
While this heavy-duty and effective juice extractor will do an excellent job with all types of produce, you will have to feed it in small chunks, otherwise, it can clog up and hinder the juicing process.
This magic machine is also equipped with a built-in ergonomic handle which helps you move it around with ease after making the juice though it is a bit heavy.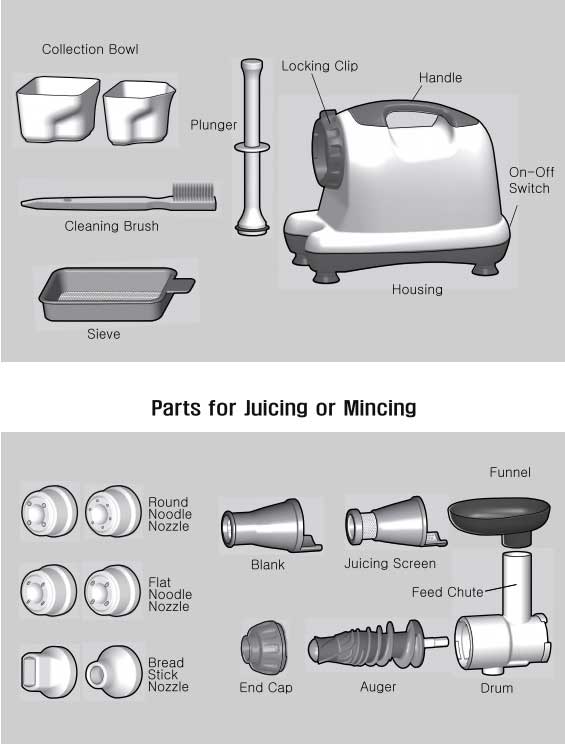 Plus, the single gear masticating juicer also features a patented auger which is so efficient at enhancing the juicing yields.
It is made up of stainless steel and also comes with a 15-year warranty which proves that the manufacturers are confident enough about its durability and toughness.
This brand boasts a powerful 2HP motor coupled with a dual-stage juicing system that ensures maximum efficiency, making this Omega J8006 an inevitable part of the kitchen.
Many users explained that they found no sign of malfunction or fatigue even after using it regularly for an extended period of time.
Apart from that, the augur of this juice maker is constructed of GE's ULTEM material which is one of the strongest in the market. For this reason, it can grind tough produce such as carrots and wheatgrass with amazing ease.
Besides making juices, you can also use this versatile juicer as a coffee grinder, baby food maker, pasta extruder, sorbet maker, and many more. That's why this outstanding machine is called a nutrition system.
Omega J8006HDS VS H3000D Why We recommend that?
| | | |
| --- | --- | --- |
| Juicer Type | Omega J8006HDS | Omega H3000D |
| Speed | 80 RPM (low speed) | 90 RPM |
| Weight | 19.4 lb/ 8kg | 11.57 lb/ 5kg |
| Warranty | 15 Years | 1 year |
| Voltage | 110-120V | 120 V |
What Are Included in the Package?
1 juice cone.
1 homogenizing cone.
1 juice bowl (plastic).
1 pulp bowl (plastic).
6 nozzles.
1 strainer or sieve.
Juice Quality And Yield:
This masticator extracts the maximum amounts of nutrient-rich juice out of minimum amounts of fruits and vegetables without compromising the natural flavor and nutritional benefits by operating at a low speed of 80 RPM (Revolutions per Minute).
Most importantly, you won't have to run the pulp through the juicer for the second time to extract more juice. Because, it uses a dual-stage mastication process: crushing and squeezing, which helps in producing more nutritious juice than other masticators or centrifugal ones do.
While working with this juice maker, you'll notice that the pulp in the pulp container is really dry, meaning that every bit of juice has been squeezed out of the produce. That's handy!
Mind you, the juice you get from this juicer machine is totally pulpless, you'll only get a pure cup of juice.
Thanks to its low-speed juicing motor, which produces little to no heat and prevents oxidation from occurring. That means that you're going to get superior quality delicious juice.
You can also store the juice for around 72 hours in a tightly sealed container to consume it later. But, try to consume it immediately after you make it to get the highest nutritional value.
Performance And Noise:
Well, though the masticator is powerful in operation, it's still a slow juicer. So, you will have to keep a bit more patience, especially if you are new to using masticators.
Concerned about the noise level? Just get it right away and keep those worries at rest. Because it is fairly quiet in use. And, if you wish to make juices early in the morning before heading towards your office, you can choose to use it without waking the whole family up. That's cool!
Omega J8006 Nutrition Center Review.
Need a juicer that you don't have to spend your entire day messing with? The Omega J8006 is the machine for you. With its powerful commercial motor, it does all the work for you! All you need to do is drop in your ingredients and let them get crushed by its dual-stage juicing system. No more crying over spilled juice or struggling with messy, disassembled juicers each time you want to make some juice!
This unit is also a low-speed squeezing machine. In other words, it operates at 80rpm as opposed to the standard Centrifugal juicer which operates anywhere from 3,000 – 15,000 rpm.
Why does speed matter?
Three reasons:
1) The slower speed limits the froth and oxidation of the juice produced.
2) Allows for maximal nutrient retention.
3) Limits heat buildup that can kill enzymes and vitamins.
The Omega J8006 Nutrition Center extracts only the most nutritious part of your produce – making juices packed with vitamins, minerals, enzymes, and antioxidants – giving you a refreshing boost each time! Plus, its automatic pulp ejection feature means you'll never have to stop and start your juicing sessions.
With the Omega J8006 Nutrition Center, you can juice anything from fruits and vegetables to leafy greens and wheatgrass. It even comes with a homogenizing blank that lets you make frozen desserts such as sorbets and sherbets. With 15 variable settings, there's no produce this machine won't work with!
Speaking of versatility, this unit also comes with two nozzles for making either thin or thick juices depending on what you prefer. You can also use it to make homemade soy milk in just 20 minutes!
How To Use The Omega J8006 Juicer?
This slow juicer is very easy to use. First of all, prepare all the juicing ingredients before switching them on. Then consider chopping the leafy greens and veggies into 1-2 inch sizes.
If the veggies and fruits are hard, consider cutting them into quarters. Feed the ingredients inside the feeding chute gently, but avoid pushing them.
After a few minutes, you'll have a freshly made nutrient-dense juice that will instantly satisfy your taste buds for sure.
Here's a video showing how to use the Omega J8006:
How to Clean The Omega J8006?
With so many detachable parts, the clean-up process of this juicer may feel like quite a tough task, but that's not true at all. The cleanup is easy peasy and it usually shouldn't take more than 5 minutes.
First off, you need to turn it off and unplug the machine. Take the head off and then take apart all the pieces of it. Wash the components well by using soap and warm water. Finally, wipe and clean the metal screen using a clean cloth.
Remember, all the parts are dishwasher safe, except the filter, and try to clean out the unit right after you are done juicing.
Frequently Asked Questions (FAQ):
Can Omega J8006HDS juice leafy vegetables?
Of course! If you want a juice maker for making leafy greens juice, then this Omega J8006HDS high-end horizontal masticating juicer can be your best bet. 
It is so efficient at juicing leafy vegetables like kale and wheatgrass because of its extremely powerful auger that masticates and squeezes every last drop of fresh juice out of the produce.
Omega J8006 vs J8006HDS – What are the Differences?
Well, the J8006HDS is the upgraded version from the J8006 and the main difference between these two is horsepower. While the J8006 is armed with a 1.3HP motor, the J8006HDS is armed with a 2HP motor that can produce more juice.
Is Omega J8006HDS BPA free?
Yes, the Omega J8006HDS juicer is 100% BPA-free. Some parts of the juicer are made out of BPA-free plastic, but the juicing screen is stainless steel.
Can The Omega J8006HDS juice soft fruits?
Typically, the juice maker cannot handle soft fruits that well. You can go through some sort of trouble while juicing soft items like pineapples and mangoes. 
All you need to do is to alternate the hard and soft fruits while you put them into the juicer. You are better off putting the softer foods first, such as mangoes and then carrots, mangoes, and then carrots.
Does Omega J8006HDS produce pulp-free juice?
Yes! The juice produced from this juicer is completely pulp-less, you'll only get a pure cup of juice.
Final Thoughts: Is This Juicer For You?
Okay, there you have it, people. Now that, I hope you've come to know that though the Omega J8006HDS Nutrition Center comes with a bit heavy price tag since you can use it in a variety of ways, it will undoubtedly be well worth the investment of your time and money.
To sum it all up, if you are committed to buying a cold press masticating juicer, then this one will likely best fit your needs, as it is easy to clean, easy to put together, backed by a very long warranty, exceeding the expectation of the users in several ways, and overall offers you delicious juices full of nutrients, vitamins, and enzymes.
Happy juicing, thanks!!!